I had the good fortune to come across the imagineNATIVE film and media arts festival in Toronto this week, and having found a short film I saw at the festival online I thought I'd point in that direction. This work is a 10 minute short by Zacharias Kunuk, creator of the first feature film in Inuktitut Atanarjuat as well as a film about one of the great arctic explorers The Journals of Knud Rasmussen (you can watch these on isuma.tv). As well as showcasing Kunuk's sublime cinematography, the short film provides glimpses into Inuit perspectives on humans and (/in) environment.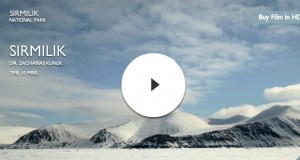 (The website won't allow me to embed the video here, and you'll have to hear a little about the National Park Project first)
Sirmilik, premiered before a new film by Alethea Arnaquq- Baril on the forbidden and almost forgotten tradition of Inuit tattoos, Tunniit: Retracing the lines of Inuit Tattoos. I don't think that is available anywhere yet but it's worthwhile looking out for. We follow Alethea on her journey interviewing elders about the tattoos, hearing stories of colonisation and the time of the arrival of Christian beliefs, through her own process of getting a tattoo and the following consequences.
Finally, I saw Wapos Bay, which, if you've followed this far and have the time to check out… well, you'll see.